Oh my goodness. Is it seriously the end of October already? Where did this month go? Also, happy Halloween! I hope you have a fun night planned. We've already got so much candy at the house from parties over the weekend, that I'm seriously considering not trick or treating tonight. We'll see if the girls can convince me otherwise. :)
I'm ready to tackle a couple more house projects this month. I ended up getting that really cute antique settee from Craigslist a month or two ago. I added more down to the seat cushion and took it to the cleaners. It needs to be picked up tomorrow. So now the settee is ready to be reupholstered!
I went back and forth about what fabric to choose. I have always loved this one from Lee Jofa and then seeing this image made me seriously think twice. But the rust color is not great with my mustard rug and the price is insane considering I need about 10 yards.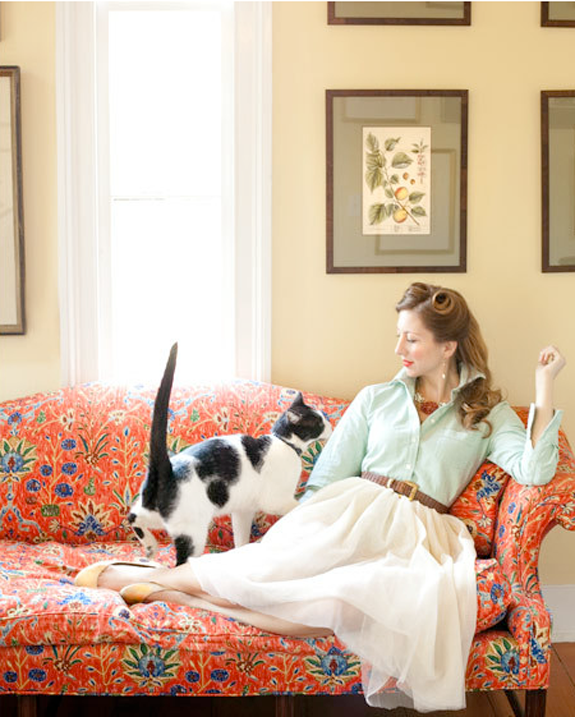 Design by Meagan Camp, who has a lovely blog HERE
I love the busy-ness of the pattern. It feels happy to me and seems perfect for a secondary sofa (still doing the white slipcover on our roll arm - that's happening this month too!). Then when I was thinking of doing the
sticker walls
in my girls room, I decided a similar idea would make for a really cool fabric. I found or made some quick clip art of things that have special meaning to our family. Mostly reminders of places we've lived.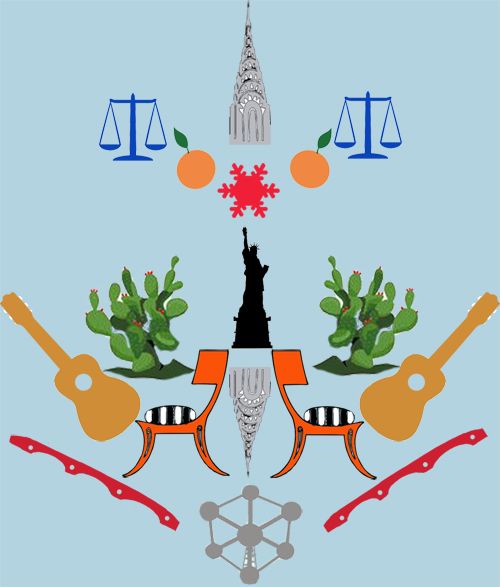 This is a really really rough draft. I only spent a couple minutes putting this one together, just to get an idea of where this could go. I think there's potential! There will be probably twice as many little objects and the colors and detailing will have to change. I might make a second design to alternate in and create a damask pattern. Each one will be about the size of a salad plate. I'm thinking of just making a couple lino cuts and block printing the whole thing myself on a heavy, inexpensive linen (thinking of sky blue right now). The other obvious option is using Spoonflower, but upholstery weight printing is almost as expensive as trade fabric. I kind of want to just try the hand-blocking project anyway. It seems like an easy and fun thing to do. I feel like the hardest part will be the carving.
Have you ever hand-blocked fabric before? I think I mostly excited by the idea of have a truly special fabric that can't be found anywhere else. Speaking of which, I found some AMAZING custom fabric prints on Etsy.
Check them out HERE
.